---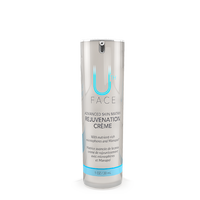 Release your body's natural ability to support beautiful, healthy skin with the help of Glyconutrients and a new, patented microsphere delivery system formulated to nourish your skin in a time-released pattern.

Benefits:
Penetrates each layer of skin to help reduce the appearance of fine lines and wrinkles.†
Provide a firmness, radiance, and luminosity.†
Developed to deliver naturally sourced Glyconutrients, herbal components, and Manapol®

 

powder to the deepest layers of the skin.
Includes naturally sourced glycans to help your cells communicate with each other.
Includes proprietary herbal components to help fortify the skin matrix, increase the production of proteins, and help protect against damage associated with aging.
Hypoallergenic, paraben-free, does not clog pores and is safe for use around the eyes.
Directions: After cleansing with your Mannatech Uth Facial Cleanser, apply Uth Skin Rejuvenation Crème to skin morning and night. Starting at the base of the neck, stroke upward covering the entire neck and face area.
*This statement has not been evaluated by the Food and Drug Administration. This product is not intended to diagnose, treat, cure, or prevent any disease.