---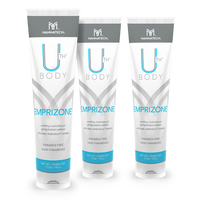 THE PERFECT ACCESSORY TO ANY OUTFIT—BEAUTIFUL SKIN

We know how busy your life gets, and we want to help you take care of your family—and yourself—as easily as possible. Emprizone's aloe vera-infused hydration formula was designed with you and your family in mind. It's the perfect daily moisturizing gel for all skin types, from dry and flaky to oily, and everyone in between. And since it's fragrance-free, it won't irritate sensitive skin.
Whether you're looking for an aloe-based solution for the inevitable scrapes, burns, and other skin issues that come with summer—or you're looking for something to help soothe dry, wind-chapped skin in winter, Emprizone has you and your family's back ALL YEAR ROUND!
This bundle includes:
Mannatech's™ Emprizone® gel contains gentle botanical ingredients to soothe minor cuts, scrapes, and irritations. This unique formula will leave your skin feeling hydrated and refreshed.
Benefits:
Significantly reduces redness due to irritation.*
Improves resiliency.*
Hydrates skin.
Evens skin tone.*
Improves elasticity and firmness.*
Soothes
Balanced pH-levels.
Paraben-free.
Allergy tested.
Dermatologist tested.
Fragrance-free.
Free of mineral oil.
Directions: Apply at least once daily to the face, hands, or other desired areas. For external use only. Do not put in eyes or on open wounds.
*This statement has not been evaluated by the Food and Drug Administration. This product is not intended to diagnose, treat, cure or prevent any disease.